Submitted by
oberhofer
on 27. July 2021 - 14:41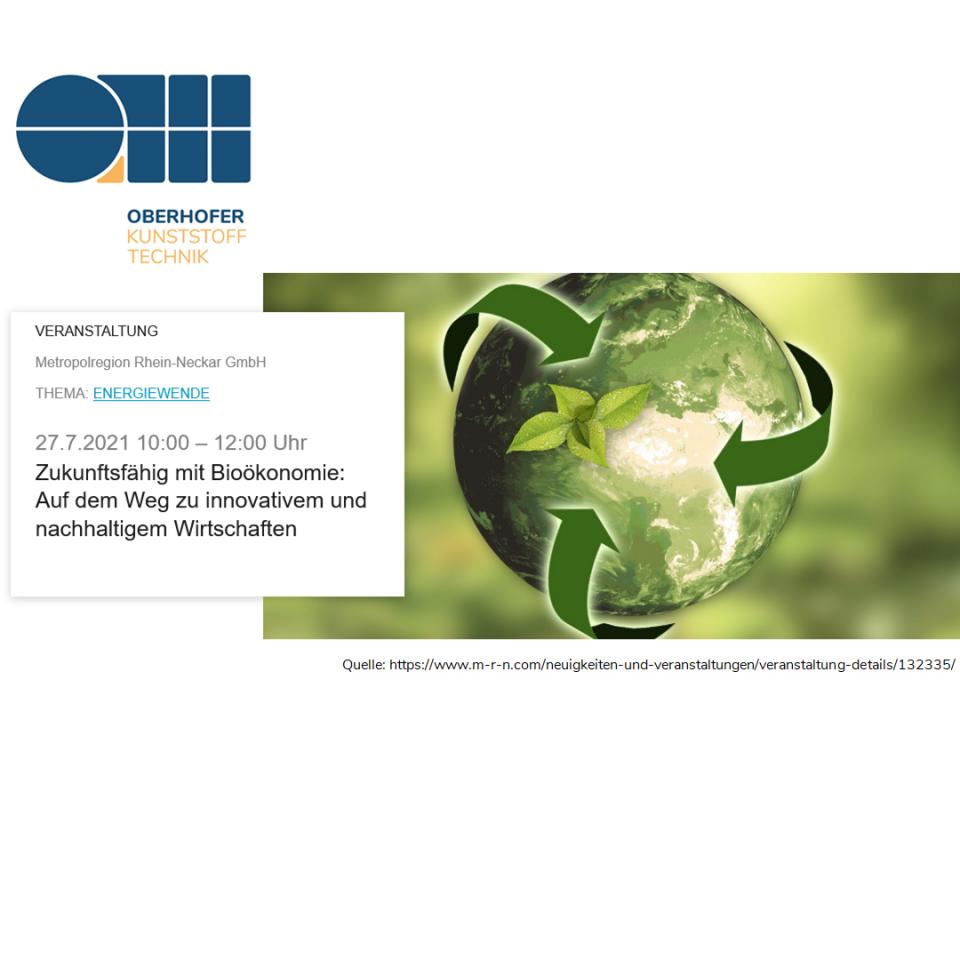 In the course of the joint event "Sustainable with Bioeconomy" of the Metropolregion Rhein-Neckar GmbH and der IHK Baden-Württemberg, OBERHOFER Kunststofftechnik GmbH is part of the event with the lecture "Bioeconomy Approaches in the Plastics Processing Company" to present the company's sustainable innovations .
Link to the event: https://www.m-r-n.com/neuheiten-und-veranstaltungen/veranstaltung-details/132335/
"Event details:
The economic world of the future is facing a central challenge: How can it develop further in terms of sustainability? Bioeconomy makes an elementary contribution on this path and intelligently links the economy with ecology. Creatively and with modern technologies, bioeconomy uses biological resources, processes and systems to provide products, procedures and services in all economic sectors for a sustainable economic system.
Companies that operate according to bioeconomic principles have marketing advantages, as customer needs are constantly geared towards sustainably manufactured products. By updating national climate protection targets, the bioeconomy will gain in importance in supply chains, in the ranking of supplier companies and across the entire value chain.
The event sheds light on various aspects of the bioeconomy with regard to current political framework conditions, economic advantages and current challenges and shows best practice examples for sustainability in production, raw material and supply chains.
Interested companies benefit from networking with regional and supraregional actors and thus have the opportunity to actively help shape the "model region bioeconomy" in the Rhine-Neckar metropolitan region. "
Source: https://www.m-r-n.com/neuheiten-und-veranstaltungen/veranstaltung-detail...